Job and Family Services
Clinton County Job and Family Services is committed to supporting the families and children of Clinton County. The agency provides a variety of public programs aimed at promoting  stabilization, self-sufficiency, workforce supports, employment sustainability, and adult and child services. The agency consist of four units: Family Services, Child Protection, Child Support and OhioMeansJobs. Local programs include cash assistance, food assistance, childcare, Medicaid (including long-term care, children's health insurance, and services to aged, blind and disabled), adoption, adult protective services, child protective services, foster care, local workforce initiatives and child support programs. For additional information about our programs and how to apply, please select from the menu on the left.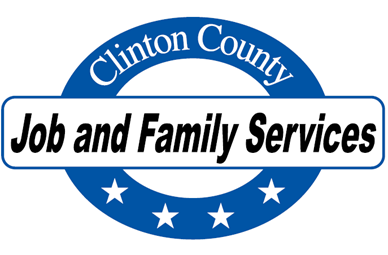 Nicole Rodman, Director
Amanda Barrera, Deputy Director
**LEGAL NOTICE**
Request for Proposals- The following counties : Clinton, Fayette, Greene and Highland, are seeking proposals to provide services to youth aged 14-24 with barriers to employment through the Comprehensive Case Management Employment Program. The purpose of this program is to assist eligible youth in achieving educational and employment success by providing high quality services. Program Requirements are outlined in the Request for Proposal (RFP) package available to interested parties by contacting Nicole Rodman at Nicole.Rodman@jfs.ohio.gov or by calling 937-382-0963 Ext. 1338. Information about scheduled Bidder's Conferences can be found in the RFP. Deadline for Submission is May 14, 2021 at 5:00PM at the OhioMeansJobs Greene County, 581 Ledbetter Road, Xenia, Ohio 45385. Late Submissions will not be accepted.