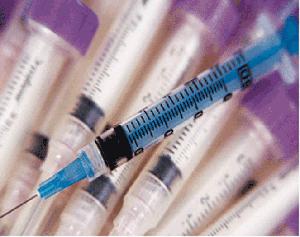 ALL IMMUNIZATION CLINICS ARE BY APPOINTMENT ONLY, 
ONLY COVID-19 CLINICS ARE WALK-IN AT THIS TIME.
Immunization Clinics
Immunizations are available for infants, children, adolescents, and adults.  We can bill most private insurances.  The Clinton County Health Department (CCHD) follows the CDC Recommended Immunization Schedule for all vaccines.  CCHD participates in the Vaccine for Children (VFC) Program through the Ohio Department of Health (ODH) which enables children 18 and under to receive vaccines at a reduced cost.  No children are denied ODH vaccines for failure to pay.
CLINIC FORMS AND POLICIES
CLICK HERE TO PRINT THE VACCINE SCREENING FORM BEFORE YOUR APPOINTMENT:  Clinic Form
CONFIDENTIALITY AND HIPAA POLICY: HIPAA Policy
CURRENT VACCINE INFORMATION SHEETS: Vaccine Information Statements (VISs)


Flu Clinic
CCHD provides flu clinics in office, on site at businesses and senior centers starting in the fall.
Contact your local senior center to inquire about upcoming flu clinics for elderly residents.
For business inquiry, contact driehle@clincohd.com to schedule an on-site flu clinic. 


Available Immunizations and Services
Child Immunizations
Hepatitis B

HIB

Influenza

Measles, Mumps, Rubella (MMR)

Pediatric DT

DTaP (diphtheria, tetanus, pertussis)

Polio (IPV)

Prevnar (Pneumonia pcv7)

Rotavirus

Tetanus (Td)

Tdap

Varivax

Hepatitis A

Menactra (Meningitis)

HPV (Gardasil)
Adult Immunizations
Immigration
Other Services
Recommendation for immunizations for traveling

HIV referrals

TB testing (1 step & 2 step)