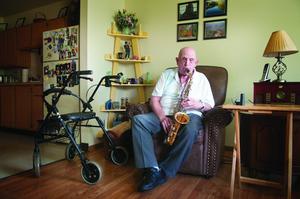 He may need help carrying his musical equipment and it is hard now to stand and play, but Wayne plans to keep on doing what he loves.
"Music has been my whole life.," he said. "I told myself, when I turn 80, I'll give it up. But I changed my mind. I got to be 80 quicker than I thought."
Now 84, Wayne continues to play in a band called The Riverrest Trio and Friends, named for a place in Florida where he and his wife used to live for part of the year after they retired. They have keyboards, a trumpet, bass guitar, banjo and Wayne's saxophone. "We just play the old stuff," Wayne said. "The crowds we play for, they're our age."
Whenever he is able to, Wayne plays with the band at nursing facilities, the Wilmington Senior Center, weddings, and last year they played a concert at the nearby historic Jamestown Theatre.
The music began when Wayne was a child and pulled his mother's old saxophone out of storage. His father played the marimba and the two had great fun playing together. Later, Wayne joined the U.S. Air Force and played in military bands as he traveled around the country.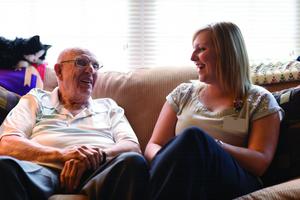 Former vice president of the First National Bank in Lebanon, Wayne retired in 1994. He and his wife, Marjorie – whom he had known since kindergarten – spent many years as "snowbirds" in Florida, but her health declined and she eventually had to move to a nursing home where she passed away. Wayne has three children, seven grandchildren, and five great-grandchildren, with a sixth on the way.
Wayne enrolled in the Clinton County Elderly Services Program in July 2011. Two back surgeries have left him with limited mobility and he uses a walker. He receives homemaking help, an emergency response device, and personal care.
Two years ago, Wayne moved into senior housing built and operated by Clinton County Community Action Program.
"I just love it here," he said. "The people I've met – we get along so well. My kids are going to buy me a glider for my porch. People stop and come up on my porch to talk and I like that."