Clinton County Port Authority
COVID-19 Business Resources
The Port Authority maintains the latest up-to-date information on state and local funding resources available to assist Clinton County businesses and non-profits impacted by the COVID-19 pandemic, as well as a variety of industry-specific communication guides released regularly by the State of Ohio. Click here to learn more.
ATTENTION:
All appointments for the Clinton County Health District vaccine clinic on Wednesday, October 6, are full.
Appointments for the Wednesday, October 13, clinic will be open for scheduling online as of Thursday, October 7.
---
About the Clinton County Port Authority
Specifically charged with economic development and job creation, Port Authorities in Ohio can take advantage of their legal authority to encourage and enhance economic development opportunities for businesses to start and grow. The Clinton County Port Authority was established in 2004 by the Clinton County Commissioners.  
In June of 2010, the Clinton County, Ohio, Port Authority took ownership of the Wilmington Air Park. It now operates and manages over 1,900 acres surrounding the two-runway, fully functional Part 139 airport. Nearly 3 million square feet of office, warehouse and hangar space are included in the airport property. In 2019, the Port Authority was designated as the economic development organization for Clinton County and all county development efforts are now concentrated through the Port Authority. 
Today, the Clinton County Port Authority is the first stop for businesses looking to expand into Clinton County and local businesses looking to grow.  
The Clinton County Port Authority is governed by an all-volunteer board appointed by the Clinton County Commissioners. Board members serve four-year terms.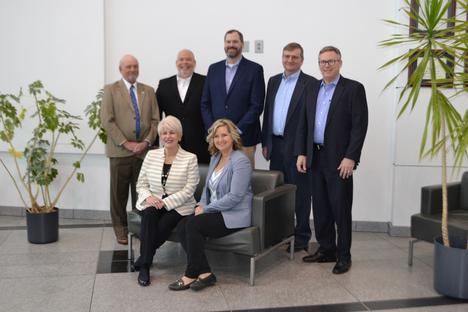 Back Row: Chair Walt Rowsey, Secretary/Fiscal Officer Larry Laake, Jim West, John Settlemyre, Brian Smith
Front Row: Renee LaPine, Vice Chair Beth Ellis
Board and Committee Meetings are open to the public. Information about meeting times, locations, and any necessary registration information can be found on the calendar of Upcoming Events. Meeting Minutes and Agendas for 2017 through 2019 can be found HERE, while Meeting Minutes and Agendas for 2020 through the current year can be found on the Upcoming Events listing for each meeting.
The Port Authority operates its own Economic Development website at ChooseClintonCountyOH.org.