Emergency Management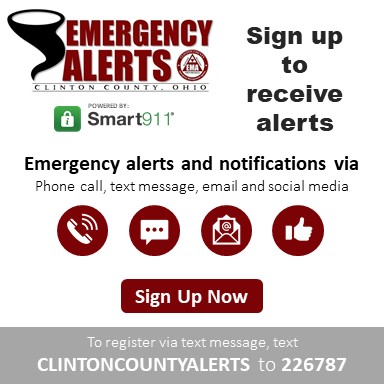 EMA is proud to announce that Clinton County Emergency Alerts is now available to all individuals and families who live or work in Clinton County.  This free service is powered by Smart911 and provides two options for sign-up. 
1. Text Opt-in/out.  A quick way to receive weather alerts by SMS when you are in Clinton County (geo-tag).  To opt-in, just text CLINTONCOUNTYALERTS to 226787.
2. If you want to decide what type of alerts and how they are sent to you (voice, text, or email), setup a an account.  The minimum information required is the means of contact (phone number or email) and an address (work, school, or home).  If you want to provide more information, you'll be able to help emergency post-disaster planning for sheltering, evacuation, and pet care.
Both options are free, and you can opt-in/out at any time.
Board members
Michael Boyle, Chairman (Non-Elected Official)
Ron Stryker, Vice Chairman (Liberty Township Trustee)
Gregory Hefner (Marion Township Trustee)
George Arledge (Chester Township Trustee)
Pete Meyers (Vernon Township Trustee)
Bob Hazelbaker (Richland Township Trustee)
Brenda Woods (Clinton County Commissioner)
The Board Meets the 3rd Thursday of every month at 7PM.
What we do
Who we are
The Office of Emergency Management
The division's mission is mandated under Ohio Revised Code Section 5502, which requires every County to have an Emergency Management program. The purpose of such a program is to minimize the effects of a disaster and to help the community recover. There is a 4 stage process to the program:
Preparedness (planning)
Mitigation (identification and attempt to minimize risk)
Response (actions taken during the actual event)
Recovery (the work needed to return the community to "normal")
Emergency Management also assists local communities in acquiring grant funds from the Ohio Emergency Management Agency to help offset the cost of various projects.
Emergency Management utilizes the skills of volunteers to provide help. Our Amateur Radio group supplies emergency back up communications during disasters and special events.
Another responsibility is the maintenance of the Emergency Operations Center (E.O.C.). The E.O.C. provides coordination and continuity of government during time of disaster.
The Emergency Management Agency meets monthly with the EMA Executive Committee.
Homeland Security (operated under Emergency Management)
After September 11, 2001, we have received numerous grants that are intended to better prepare the County's first responders for such an incident. We have acquired a great deal of equipment that will provide physical protection to responders, as well as equipment that will detect and identify biological and chemical agents. To date, Clinton County has or is in the process of receiving $750,000.00+ in Homeland Security funds for first responder equipment and planning.  Of this amount $393,723.16 was spent on upgrading the county's emergency communications.  $216,785.62 was spent on emergency service equipment for law enforcement, fire, EMS, and EMA. $75,587.94 for administration and plans and $72,867 for businesses.
In addition to equipment, we continue to review our response plans, exercise these plans and update them as needed or required.
The Clinton County Emergency Management Agency was created in December 1989 by a joint county-wide agreement among the County Commissioners, the eight municipal councils, and the thirteen boards of township trustees.  The purpose of the agency is to coordinate disaster preparedness plans, emergency response communication and the management of resources needed during disaster situations.
The Emergency Management Agency conducts various public awareness campaigns with local organizations and schools to promote safety in the home, school, and workplace.  The agency also works with area businesses to develop safety plans for both the employee and the customer.
We have been privileged in Clinton County to have excellent public safety agencies.  The nine local fire departments, eight life squad units and seven law enforcement agencies are filled with dedicated men and women who volunteer their time to make this great county a safer place to live.  Our aim is to cooperate and help in any way with these agencies in making this county as prepared as possible.